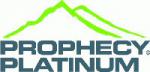 VANCOUVER, BRITISH COLUMBIA -- (Marketwire) -- 08/09/12 -- Prophecy Platinum Corp. ("Prophecy" or the "Company") (TSX VENTURE: NKL)(OTCQX: PNIKF)(FRANKFURT: P94P) is pleased to announce the results of ongoing metallurgical testing for its Wellgreen Project located in the southwestern Yukon Territory. Metallurgical tests completed at SGS Laboratories under the direction of metallurgist Mr. Mike Ounpuu indicate separate nickel-PGE-cobalt concentrates grading up to 12.9% nickel and copper-PGE-gold concentrates grading up to 23.2% copper can be produced from Wellgreen's disseminated PGE-Ni-Cu mineralization.
Locked-cycle test results (LCT-1) successfully produced a nickel-PGE-cobalt concentrate grading 12.9% Ni 13.7g/t PGE and 0.76% cobalt, and a copper-PGE-gold concentrate grading 23.2% Cu with 7.0g/t PGE and 1.4g/t Au. Tabulated concentrate grades for LCT-1 and LCT-5 are shown in Table 1 and Table 2 respectively.


              Table 1. LCT-1 Separate concentrate grade results

Product             Weight %     Cu%     Ni%     Co%  Pt g/t  Pd g/t  Au g/t
Cu Concentrate          1.00    23.2    0.88    0.05    2.16    4.83    1.44
Ni Concentrate          2.26    2.69    12.9    0.76    3.84    9.84    0.34
----------------------------------------------------------------------------


            Table 2. LCT-5(i) Separate concentrate grade results

Product           Weight %       Cu%       Ni%    Pt g/t    Pd g/t    Au g/t
Cu Concentrate        1.52      19.1      1.37      2.51      6.06      1.41
Ni Concentrate        3.46      1.32      9.11      4.56      7.77      0.33
----------------------------------------------------------------------------


Following Table 3 and Table 4 indicate the overall metals recoveries


                Table 3. LCT-1 Recoveries to concentrate in %

                          % Recovery
Product                 Cu        Ni        Co        Pt        Pd        Au
Cu Concentrate        68.2       1.8       1.5       4.9      11.0      31.2
Ni Concentrate        18.0      60.9      58.8      19.7      51.1      16.9
----------------------------------------------------------------------------
Total                 86.2      62.8      60.3      24.6      62.1      48.1


                Table 4. LCT-5 Recoveries to concentrate in %

                              % Recovery
Product                   Cu          Ni          Pt          Pd          Au
Cu Concentrate          74.1         4.2         8.3        17.8        31.5
Ni Concentrate          11.8        61.5        35.6        52.1        34.8
----------------------------------------------------------------------------
Total                   85.9        65.7        43.8        69.8        66.3


(i) In order to meet report deadline, LCT-5 assays did not include cobalt.
These results conclude the first phase of an extensive metallurgical program commenced in late 2011 and show it is now possible to produce separate Ni- PGE-Co and Cu-PGE-Au concentrates from disseminated sulphide-bearing, ultramafic mineralized rocks that comprise the bulk of Wellgreen's National Instrument 43-101 resource.
Tests were conducted and completed at SGS Laboratories in Vancouver, British Columbia. A 150 kg submitted composite blend of the prevalent host-mineralized rocks was crushed to a -10 mesh size and used as the sample for testing. A calculated head feed grade of 0.48% nickel, 0.34% copper, 0.44 g/t platinum, and 0.44 g/t palladium was tested. Conventional flotation conditions were used to produce a concentrate with emphasis on base metal recoveries from locked-cycle testing.
Conditions for the reported test include Xanthate, CMC, guar gum and CuSO4. Conceptually, the metallurgical flowsheet involved preliminary flotation of copper-rich concentrates using primary reagents followed by secondary flotation of nickel using with a reagent combination suitable to optimize flotation of Ni-rich products.
The recently completed Preliminary Economic Assessment ("PEA") dated July 6, 2012 was based on the assumption of Wellgreen project producing a bulk concentrate. In addition to discounting the standard smelting recoveries in the financial model, a further 25% smelter cost factor was applied to account for the bulk concentrate option. The results reported today indicate the 25% cost factor is likely conservative in light of the added marketability of separate concentrates. This may reduce the downstream costs, and enhance the economics of the Wellgreen project.
John Lee, Chairman of Prophecy states; "The ability to produce split concentrates is a milestone for the Wellgreen Project. The new diversity in product marketability increases the number of potential strategic partners which will no doubt result in more favourable life of mine smelter terms. The high-grade concentrate and increased metal recoveries will also result in a drop in the overall concentrate transportation cost improving the project viability. The results are preliminary with grade and recovery optimizations planned on both precious and base metals in phase 2 of the metallurgical program in the fall".
Wellgreen Preliminary Economic Assessment ("PEA") by Wardrop and the full Metallurgical test report (with flowsheets and QEMSCAN) by SGS have both been filed on SEDAR and available via the Company's website at www.prophecyplat.com.
This news release has been reviewed and approved by Danniel Oosterman, P.Geo., a Qualified Person as defined in NI 43-101.
About SGS Mineral Services
Founded over half-a-century ago to meet the metallurgical needs of Canada's growing mining industry, SGS Minerals Services' metallurgical group has since built upon its unique capabilities in grinding and flotation technologies to emerge as an industry leader in a full range of metallurgical services. With a diversity of technical expertise that is second to none, SGS Minerals Services has carved itself an identity in the rapidly changing world of mineral and mining technology.
About Prophecy Platinum
Prophecy Platinum Corp. is a Canadian based Nickel PGM exploration company with projects in Canada, Argentina and Uruguay. Prophecy Platinum's flagship Wellgreen PGM-Cu-Ni project is located in Yukon Territory, Canada. Prophecy's Shakespeare PGM-Cu-Ni project (fully permitted) is located in Ontario, and its Lynn Lake project is located in Manitoba, Canada. Further information can be found at www.prophecyplat.com.
ON BEHALF OF THE BOARD OF DIRECTORS
Prophecy Platinum Corp.
John Lee, Chairman
Forward-Looking Statements: This news release includes certain statements that may be deemed "forward-looking statements". All statements in this release, other than statements of historical facts, including, without limitation, statements of potential mineralization, the estimation of mineral resources, the realization of mineral resource estimates, interpretation of prior exploration and potential exploration results, the timing and success of exploration activities generally, the timing and results of future resource estimates, permitting time lines, metal prices and currency exchange rates, availability of capital, government regulation of exploration operations, environmental risks, reclamation, title, and future plans and objectives of the Company are forward-looking statements that involve various risks and uncertainties. Although Prophecy believes the expectations expressed in such forward-looking statements are based on reasonable assumptions, such statements are not guarantees of future performance and actual results or developments may differ materially from those in the forward-looking statements. Forward-looking statements are based on a number of material factors and assumptions. Factors that could cause actual results to differ materially from those in forward-looking statements include unsuccessful exploration results, changes in project parameters as plans continue to be refined, results of future resource estimates, future metal prices, availability of capital and financing on acceptable terms, general economic, market or business conditions, risks associated with operating in foreign jurisdictions, uninsured risks, regulatory changes, defects in title, availability of personnel, materials and equipment on a timely basis, accidents or equipment breakdowns, delays in receiving government approvals, unanticipated environmental impacts on operations and costs to remedy same, and other exploration or other risks detailed herein and from time to time in the filings made by the companies with securities regulators. Readers are cautioned that mineral resources that are not mineral reserves do not have demonstrated economic viability. Mineral exploration and development of mines is an inherently risky business. Accordingly the actual events may differ materially from those projected in the forward-looking statements. For more information on Prophecy and the risks and challenges of their businesses, investors should review their annual filings that are available at www.sedar.com.
Neither the TSX Venture Exchange nor its Regulation Services Provider (as that term is defined in the policies of the TSX Venture Exchange) accepts responsibility for the adequacy or accuracy of this release.